Whether instead of or in addition to a full time job outside the home, can be an important step toward achieving and maintaining a debt-free lifestyle. Some people are so resourceful with the work at home lifestyle that they spend most of their free time reviewing products, freelance writing, and filling out surveys for additional income. They manage to piece together lots of part time work at home opportunities until it adds up to a substantial supplement to their income.
The only limitation to this strategy is that there are only so many hours in a day, and you can only fill out one survey or review one product at a time. To find a way around that, you have to find a source of passive income, a source of income where the amount of money you earn is not proportional to the time you spend on an activity. Affiliate marketing is a popular source of additional income for people who are well versed in Internet-based work.
If you have a blog
You can add affiliate marketing to your blog. Most affiliate marketing success today takes the form of revenue sharing.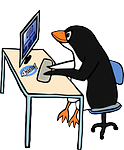 That means that you, the "affiliate", display an ad on your blog for a company, the "retailer". Every time someone clicks on the ad, it takes that person to the retailer's website. You get paid a commission, either a flat rate or a percentage of the sale, every time a click that comes from your blog results in a sale.                                                                                                                                                                                                                                      

In the old days, many affiliate marketing arrangements paid the affiliate per click or per view, but these systems were problematic. The ratio of views to purchases can be very low, depending on where the ad is displayed. With pay per click advertising, there is too much potential for click fraud.
For maximum affiliate marketing success
It is a good idea to advertise products that you have actually used. Lifestyle bloggers, also called mommy and daddy bloggers, have had a lot of success as affiliates, advertising products for young children.
Blogs about the education industry are also a good place for affiliate marketing, because they are a good place to advertise products that are popular with students.                            Visit a website of an affiliate network. You will see a list of retailers whose advertisements you can choose to display on your blog or website.